Welcome Aboard with LiquiDeep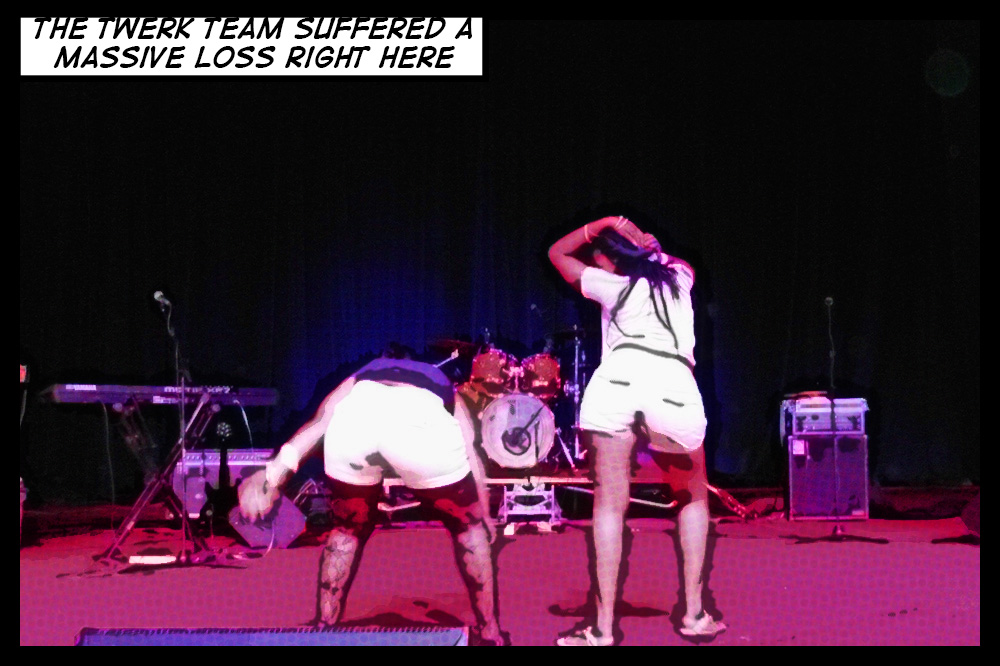 Back in December, Dan & I got word that Liquideep were coming to Harare. I've always enjoyed their music & Dan has never been one to pass up on a free ticket. So I set about on the arduous task of finding the organizers of the event & begging them continuously until they finally gave in & put Dan & I on the list.
The show had a bumper line up, Guspy Warrior, Killer T, Mudiwa, MMT, Simba Tagz, Dhadza D, Taz (Afrika Revenge), Shinsoman, Smylie, Renailo, DJ Naida, Dj Dee Nosh & DJ Storm were all on the bill as supporting acts.
Sadly due to financial issues (Dan spending our taxi money on deodorant) we got to the Harare International Convention Centre as MMT were completing their set.
Attendants were split into 2 sections. VIP seated in the seats on the same level as the stage with a section for standing closer to the stage & regular ticket holders in the seats upstairs overlooking the stage. When I go there the venue did seem a little empty. But as the night wore on it became clear it was the illusion created because the VIP section was not full & the section upstairs which had far more attendees than I initially suspected, was poorly lit & hid them from view.
The night was filled with some impressive performances. Before Liquideep took the stage the "non dancehall urban acts" were asked to perform. Most of them had shorts sets not longer than 15 minutes. The highlights of these sets were definitely Ammara Brown & Taz (formerly of Afrika Revenge). In our recent interview with Ammara she bragged about her live sets & she definitely backed it up on the night. Taz also delivered an impressive set & his performance of his hit Wanga had everyone on their feet. Even if it was sans Willis. (They really should just get back together).
After that, it was now time for the headline act to perform. As is the norm with these shows there was a long wait as the stage was set up & the MCs from StarFM did their best to keep the crowd hyped while the stage was being set up. Things did get a little precarious when they invited a few ladies up on stage to dance. I really could have gone the rest of my life without seeing the things my poor self was forced to endure during those hellish 2 minutes. I have always been a staunch Twerk Team supporter but on that night it suffered a loss it will struggle to overcome in my eyes. Ladies (& gents) there is nothing wrong with sticking to what you know. A 2 step never hurt anyone. Trying to do too much on the dance floor has claimed many a life & limb.
After that hot mess had been shooed off stage the 2 piece band took the stage, quickly followed by Ziyon & Ryzor. They delivered a solid set going through old hits & new songs off their latest album Welcome Aboard. To my surprise it seemed I was one of the few fans in attendance that knew the songs that weren't released as singles. It still seems like a large chunk of Zim fans don't bother to listen to albums. Even if they get them illegally. Ziyon's vocals & energy were great throughout the show & Ryzor provided an animated brand of mixing & effects behind the boards & turntables. The only disappointment for me was the absence of Alone in their set.
Soon their set was over & the small crowd that was behind me at the beginning of the night had swollen. But it was about to get bigger. Much bigger. I was not prepared for what was about to ensue.
Usually after the main act has performed a venue quickly empties as the fans find their way out & return to their dreary lives while doing their best to save the memories of the night they just had as some form of quick mental escape.
A few fans left, but if anything the venue got more packed. Security got a little more lax & a large number of attendees snuck their way into the VIP area to witness the Zim Dancehall acts. My mind was not prepared to handle the popularity & stage presence these acts possess.
Smylie took over as MC & he was simply outstanding. He had the crowd eating out the palm of his hand as he & his dancers entertained. Then the fire king Dhadza D came on stage & delivered one of the most masterful live performances I have ever seen. It was polished from start to finish. Not a word, missed, no words uttered out of breathe, everything about his set was thought out & deliberate & he had the crowd in a frenzy.
Other newer acts like Shinsoman & Killer T both took the stage & had fans dancing from tables & swinging from the fixtures - literally. But you could tell they were not fully prepared. Shinso's music, which seemed to be playing off a CD skipped occasionally & he would often cut a song mid-way & force the DJ to skip to the next song. Killer T's live voice didn't match the recorded version & considering the hype I had going into the show, I was left a little disappointed. Though the rest of the crowd seemed unfazed.
All in all it was an impressive event. Much thanks to Xtra Time Entertainment for putting an impressive show together especially Tonde & VJ.